The 2021 Subaru Love Promise Customer and Community Commitment Award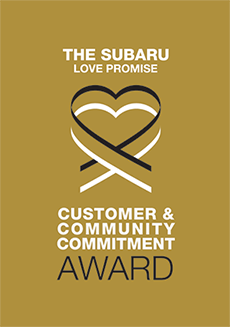 We've been nationally recognized for our dedication to our customers, our community, and the Subaru Love Promise.
We're honored to receive the 2021 Subaru Love Promise Customer and Community Commitment Award. This award nationally recognizes elite Subaru retailers who provide an exceptional customer experience at every interaction with Subaru. These retailers have also demonstrated an outstanding commitment to supporting passions and causes in their local communities in important areas such as the environment, community, health, education, and pets.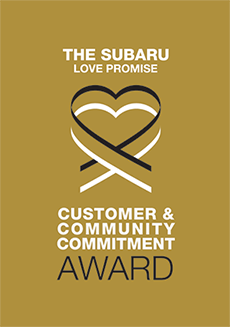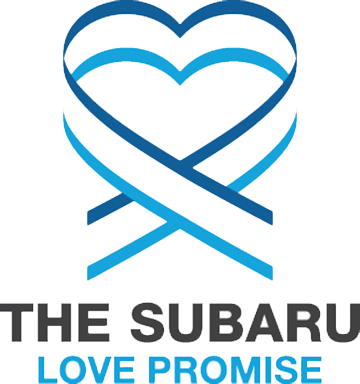 What is the Subaru Love Promise?
Subaru and our retailers believe in making the world a better place and the Subaru Love Promise is our vision of respecting all people. This is our commitment to show love and respect to our customers and to work to make a positive impact in the world.
How is RK Subaru dedicated locally to the Love Promise?
Our Love Promise can be seen in various partnerships with local charities and non-profits. We're grateful for the opportunity, not only to be a part of our community, but to serve it as well.
Protecting the Children Foundation, PCF - Protection Children Foundation
Love Promise Stories from RK Subaru
Subaru and RK Subaru believe in making a positive impact on the communities in which we live and work. We uphold that belief through our Love Promise Community Commitment. Every month, we select inspiring stories from customers and partners from around our area who strive to support our collective commitment and feature them here
Subaru meet and greet - Nick W
Subaru Steve and Anthony V at RK Subaru have had a few meet and greet events for Subaru owners before, but the one held on June 19th was the first one since Covid-19 started. It was awesome to get to socialize with other Subaru owners again and talk about our vehicles (one guy had a tent on top of his Ascent)! The event was concluded with a round of generous give aways by Subaru Steve and Anthony V, along with the Kris Wilson who is a co-host of their morning video series online. It was a great event and looking forward to attending the next one!
---
RK Subaru and The Protecting Children Foundation - Nicholas W
One in five children are at risk of hunger each day. One in four children are at risk of substance abuse before the age of 18. RK Subaru and The Protecting Children Foundation are doing their part to help. From supplying food to kids and checks to families' in need, the partnership has made a difference in many lives.
---
2020 Make a Dog's Day Adoption Story - Emily P
Rex, a 6 year old Chinese Shar Pei mix, was surrendered to the VBSPCA on June 23, 2020. Rex's previous family was no longer able to financially care for him and his mounting medical needs. Upon arriving at our shelter, our veterinarians quickly determined that Rex was in need of urgent veterinary care. Rex was suffering from a double ear infection, severe tooth decay requiring dental surgery, a skin infection and bilateral entropion (prolapsed third eyelid) repair in both eyes. Rex was placed in a foster home while undergoing treatment for these conditions. Rex received eye and dental surgery and by the end of August, he returned to the shelter to await adoption. However, due to the cost of Rex's care which increased his adoption fee and being a senior dog, many families seemed to pass him by. Thanks to the Subaru Make a Dog's Day Adoption Promotion in October, Rex's story was featured on our social media and on October 6th Rex went to his forever home with the perfect family.
---
Successful Subaru event - nicholas w
Subaru Steve and Anthony V had another successful get together for Subaru owners in the Hampton Roads area. The event included giveaways, doughnuts and coffee, and even awards for the top three Subaru vehicles.
---
Neuter Scooter 2.0 at RK Subaru - Nick W
RK Subaru partnered with the VBSPCA once again as the Neuter Scooter was on site for pet vaccinations.It was great timing as Subaru's Love the Pets campaign is in full effect. RK looks forward to working with the VBSPCA again soon.
---
Subaru & LLS Deliver Blankets to CHKD Patients - Khiem T
On July 22, the LLS Virginia Chapter and RK Subaru had the pleasure of delivering 80 blankets to The Children's Daughters as part of the Subaru Loves To Care program. These comforting gifts were accompanied by personalized messages of hope written by the customers and staff of RK Subaru. This incredible act of generosity was warmly received by the CHKD staff who were thrilled to distribute these comforting gifts to their patients. LLS is proud to partner with Subaru to spread hope, love and warmth to those fighting cancer, across the country and right here in the Norfolk, Virginia community. Many thanks to everyone at RK Subaru and CHKD, not only for a memorable day, but for supporting LLS's mission to cure blood cancers and improve the quality of life of patients and their families.
---
RK Subaru loves to Care - Nick W
RK Subaru teamed up with CHKD and the Leukemia & Lymphoma Society to deliver blankets and motivational messages to children with Leukemia. Messages have been written and accumulated over the past couple of weeks from customers and employees at RK Subaru to let the children know they are not alone in this battle. RK Subaru thanks CHKD and the Leukemia and Lymphoma Society for their dedication to helping people with these diseases and looks forward to continuing the partnership.
---
Kicking Off Your Shoes at RK Subaru - SubaruSteve A
Each day FIVE HUNDRED MILLION CHILDREN, TEENS & ADULTS wake up each morning without anything to protect their feet. Join SubaruSteve and AnthonyV and RK's "Kick Off Your Shoes" Event as we target a Goal of ONE THOUSAND PAIR of Shoes to Help Others!
---
6th Annual PCF golf tournament - Tom B
RK Subaru was a proud contributor at the 6th annual golf tournament hosted by the Protecting Children Foundation. It was a perfect day with a great turnout and gorgeous weather. Thank you to everyone who showed their support.
---
The BEST - John T
After having an issue with my family cars transmission, I was forced to use my sports car as a family car I knew I had to trade it in. They lowered my payment and I got the warranty that covers everything until the month its paid off. The sales lady was fast as I called ahead. She waa a great girl. The finance lady was great, she didn't try to sell me a bunch of unnecessary stuff. I will be doing business with them again and I would definitely recommend you at least stop in. Subarus still feel the same way they did when I was a kid. Really happy about my decision to go with Subaru and super happy I went to RK Subaru.
---
Kick off your shoes! - Steve M
Anthony Vonner and Subaru Steve are already extremely popular within the Subaru community. The two sales consultants regularly go live on Facebook where they do giveaways, chat with followers (the amount increases daily) and have a good time before providing a day of excellent customer service (Both boast nearly perfect satisfaction ratings) They kicked it up a notch with a shoe donation drive titled "Kick off your shoes" where they will be donating new or gently used shoes to those less privileged. The box already has dozens of shoes and is big enough for plenty more. The efforts mirror the ideas of RK Subaru, who always want to do everything it can to help others. Thank you Anthony Vonner and Subaru Steve!
---
10th Annual Youth of the year dinner. - steve m
RK Subaru was in full attendance as a sponsor for the March 14th Boys and Girls Club of Southeast Virginia dinner. The club was celebrating their 100 year anniversary. RK employees and even one of the owners took part in the activities, including a silent auction of the club's members artwork. The event was terrific and RK is looking forward to another 100 years of outstanding work in the community from the Boys and Girls Club of Southeastern Hampton Roads
---
Girl Scout Cookies! - courtney h
Every year the Girls Scouts make their rounds selling the famous delicious treats. RK Subaru is always one of their favorite spots to sell. Not only did RK employees buy their fair share, they even donated some to USO. The Girl Scouts can always count on RK to get some cookies (especially Samoas and Thin Mints).
---
SSSEVA thanks SOA in helping feed seniors - Nealy G
The Senior Services of Southeastern Virginia (SSSEVA) wants to thank Subaru and RK for their contributions to Meals on Wheels programs like ours locally and around the country through the Subaru Share the Love event. Thanks for all you do!
---
Successful event - APRIL L
I wanted to reach out to say thank you for so kindly hosting our Vaccine Clinic a couple of weekends ago! Our goal was to be able to provide 100+ vaccines to the community and we exceeded our expectations by providing 134 vaccines to 55 animals. We loved being able to work with RK Subaru on the event, and hopefully, you're feeling good about the traction you were able to receive that day as well. We're preparing a final report for ASPCA for their support of our event. We would love to include any photos that you or your team might have from the day. Please don't hesitate to be in touch with additional questions and we'd love to continue to reach out to RK Subaru in the future for opportunities that you might be interested in. Thank you again! Sincerely, April Le
---
Winston Wishes - WINSTON W
I got my rabies and FVRCP shot today with my brother Kingston. I have to stay healthy especially since I'm FIV + so I have to always get my shots. Thank you, Virginia Beach SPCA and RK Subaru, for having this event and helping so many of my friends get the affordable care they need!
---
Neuter Scooter event - Nick W
The VBSPCA's Neuter Scooter was on sight at RK Subaru Oct 20th and provided care and services to pets. RK Subaru partnered with VBSPCA for the event and was made possible by a grant from the ASPCA. The special love promise event allowed pet owners to get care and service to their pets without paying typical large vet bills. The rainy day didn't scare anyone with over 50 pets getting serviced in a little under three hours, perfect validation that Subaru really does love pets!
---
Eco friendly award - Nick W
RK Subaru recently became the only Certified Subaru Eco-friendly retailer in the Hampton Roads area. As a Subaru Certified Eco-friendly retailer, RK is committed to making a positive impact on the community and the environment in five key areas. These five areas include Recycling, Energy efficiency, waste management, water conservation, and community involvement.
---
Walking away from a bad accident - CHARLES K
It all started a year ago when our niece took us for a ride in her Subaru thru the mountains near Roanoke Virginia. The performance of the car was very impressive. We started reading up on the Subaru on the internet, Consumer Report, and T.V. ads. The safety features were great. In August 2018 we passed RK Subaru and decided to start checking the local dealers out. We had received several emails from various dealerships but one guy was persistent. His name was Subaru Steve. When we arrived at RK we ask for Steve and the young gentleman, Cal Green, said he was off but he would help us. He informed us that they all work together. We let him know we were just there to compare prices and soon we were the owner of a 2018 Subaru Forrester with all its bells and whistles. We could not believe the deal he offered with the help of the Sales manager, Gregg Reynolds. Not only did we get introduced to the finance manager, Jarrett, but to the parts and service staff. The whole deal went very smoothly. We are alive to tell the rest of the story only because of the safety features of the Subaru. Three days after we purchased the car we were rear-ended by a woman playing with her dog and hit us 45 MPH as we sat at a stop light. The car was totaled but we suffered only major bruises We returned to RK and were met with the kindest staff who showed great concern and understanding. We were beginning to feel like we were among family and not just a business deal. Among those who showed us they cared were Shantell, Cal Green, Jarrett, and Gregg and Anthony. And can you believe Steve emailed us while he was on vacation to find out how we were doing after the accident. After the insurance settlement, we now have a new Subaru Forrester thanks to the staff at RK including Hannah Cooper and Nick Wilson. We are indebted to all of the staff at RK and would recommend them to anyone. Thank you for letting us share our story and for the safety features of the Subaru that allowed us to walk away from a very bad accident. Sincerely. Charles and Beverly Kronenburg
---
SUBARU/LLS BLANKETS AND WARMTH TO CANCER PATIENTS - Khiem T
Walking into the Children's Hospital of the King's Daughters (CHKD) you are met with bright murals and interactive play areas...you could be at a playground. But upon closer inspection, the children are in wheelchairs and the parents all have the same stressed and tired faces. Ivan and Shantelle, from Subaru open box upon box of arts and crafts kits while the hospital staff exclaims how excited the kids will be to receive these. Unfortunately, we were unable to deliver these items directly to the children. This just brought the purpose of the deliveries to the forefront, these children were fighting for their lives. And while it was acknowledged that the blankets and kits wouldn't change that fight, the staff shared how much these little actions would matter to the children and help them feel like regular kids for a moment.
---
Celebrating 75 years at NAS Oceana - GREG R
RK Subaru General Manager Greg Reynolds and Subaru District Sales Manager Molly Moran were in attendance as NAS Oceana celebrated its 75th year anniversary. Retired Admirals, Captains, and even the Mayor took part in the festivities. RK Subaru will continue to support the military and NAS Oceana and looks forward to celebrating another 75 years!
---
Where love meets hope - Nick W
On August 7th, 2018 RK Subaru sent some employees to Children's Hospital of the King's Daughters and handed out blankets and art kits to children fighting cancer. The event is through the Subaru Loves to Care initiative and is a partnership with The Leukemia & Lymphoma Society. Thousands of "messages of hope" were also delivered and read to patients.
---
5th Annual PCF Charity Golf Tournament - TOM B
The Protecting Children Foundation held its fifth annual charity golf tournament. RK Subaru was the main sponsor as local business owners, city officials, legislative leaders, and even golf pro, Marc Leishman, helped raise funds and spread awareness about the three dangers affecting youth in the local community: Drug addictions, sexual abuse, and hunger. We anticipate two million people had exposure to the ads, the charity golf tournament, PSA's broadcasted by COX/RK Subaru and work that PCF has done for the local Virginia Beach community to help protect children.
---
RK Subaru and Protecting Children Foundation - Colin S
The Protecting Children Foundation works to help children in need in the Hampton Roads area of Virginia. They focus on three main areas of assistance: feeding hungry kids, educating the community on the heroin epidemic and serving as a resource for juvenile victims of sexual assault. RK Subaru has not only played a leadership role, but has been one of the main driving forces in the Protecting Children Foundation. Commonwealth's Attorney Colin Stolle, the chief prosecutor for the City of Virginia Beach, in this video relays his experience working closely with the Protecting Children Foundation over the years.
---
From Worst News to Best News Ever - Paul H
Recovery for Life has been helping rescue and empower children, teens and adults with addictions for 20 years. We've heard about every story imaginable. Yet, when P. came in and shared, "I just got the worst news ever," I listened carefully. This story was different. Just days earlier, he had received the unfortunate news that his own dad had been accused of molesting his son. P. was in shock. "I just don't know where to go or what to do." Thanks to a donation from R.K. Subaru, we were able to bring the P. in for counseling while detectives were able to do their work. With solution-focused therapy and a lot of listening help, P. is able to help his little boy. He is also getting the help he needs and is adjusting well. This is all because YOU cared. YOU provided the funds for us to reach out to a family in need (at no cost to them) in one of the worst moments of their life. This tragic news turned into good news when he looked up at me and asked, "What's this going to cost?" I was able to answer, "Absolutely nothing, because someone cares!" Dr. Paul Hardy Recovery for Life Recovery for Kids Recovery for Vets Transition Homes
---
Subaru Loves the Earth - E-Waste Event - Danielle S
We would like to thank our customers for participating in our E Waste Recycling event during the month of April. With your help, we were able to prevent 2,090 lbs of carbon emissions from polluting the atmosphere. This is equivalent to saving 81 trees, 356 gallons of gasoline, 3,030 plastic bottles, and 13,936 aluminum cans. Thank you for helping strengthen the Subaru Love Promise!
---
April 1-30, 2015 E-Waste Recycling Event - Molly M
Throughout the month of April, we are hosting an E-Waste Recycling Event in our store to collect unwanted electronics. We've arranged to work with a company who will responsibly collect, re-purpose, and recycle your electronic waste. Help us protect our environment. Just show up with your E-Waste and we'll do the rest! The first 50 customers who contribute will receive a complimentary environmental badge of ownership. We will accept: LCD Monitors, Cell Phones, Laptops, Tablets, CRTs up to 40, Video Games/Consoles, Fax Machines, DVD/VCR Players, Printers, Computer Peripherals, Switches/Routers, Cords and Wires.
---